Juniormingo0099
is the offspring of Jokermingo0044. He was born just before his father's apparent demise aboard the
Diarrhea Death Star II
.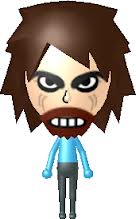 Overview
Juniormingo wasn't naturally concieved. He was created using Jokermingo's DNA and some Highway Cookies. Afterwards, Jokermingo ordered his son's immediate care so he will rule with his father against Domingo0022. Many did not know that Jokermingo was a father, until spies were capable of rummaging through the remaining pieces left of the Diarreah Death Star. They found Junior, and sent him to Domingo's Palace. The reason why Juniormingo survived the blast of the Diarrhea Death Star was because he was found inside a cargo hold made of pure OMGWTFBBQ Steel.
As he grew older, he started learning about his father. He had never known his father was resurrected, or if he even had a home, so he ran away, never to be seen again... or so we thought.
Appearances
Juniormingo0099 was recently confirmed to be the main antagonist for Season 5 of Microsoft Sam reads HUGE Windows Errors, working alongside Drew Pickles to kill Microsoft Sam and revive old enemies to take over the land of Microsoft.